My name is Pippo. I used to be in Westlake Village for over 10 years and at that time I had the best Sunday Buffet Brunch in Ventura County. Well, now I am hidden around the mountain of Wood Ranch, in Simi Valley but still serving the very best Sunday Buffet Brunch for only $21.95.

Our Sumptuous Brunch Features Shrimp, Mussels, clams, Oysters, a Variety of Smoked Fish, Fresh pastas, Veal, Chicken, Fresh Lox, Muffins, Sweet Rolls, croissants, Omelettes, Egg Benedict, Pies, Cake, Champagne, Orange juice, coffee & of Course Lobster & Much More! Please forgive my english, she is not so good, but my Sunday Buffet Brunch Speak more better.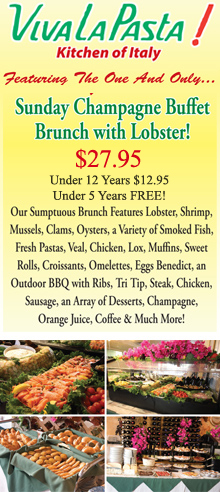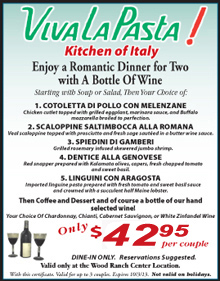 Entrees can change weekly.
OPEN HOURS:
Mon - Thurs 11:30 am - 9 pm
Fri - Sat 11:30 am - 10 pm
Sunday 10 am - 9 pm